Why you want to travel to Capri immediately
What was the one thing that you always asked to receive for your birthday when you were a little girl? (or boy?)

What was that one thing that always came back as a desire, a wish, that stood for something bigger than the gift itself?
For me it was a suitcase. Always a suitcase. I never knew why this was such a desire, it just was. I would dream of an old-fashioned one, with stickers and little damages that showed it had been around.
I still love suitcases. Especially if I get to fill them up and take them to gorgeous places all over the world. Where I can explore, be on an exciting adventure. Where things are different and new. To learn about myself in a new environment. Where I can experience a world beyond my own. Or can simply enjoy delicious prettiness.
Maybe there's a traveler in you too?
Then you'll love this Capri trip and understand why you want to travel there immediately. Highlights and, obviously, where to eat.
Capri is a small island for the coast of Naples, Italy. IT. IS. GOR-GE-OUS
You get there by ferry and the island, with it's little harbor and picturesque village built on the steep hill, slowly emerges before you in all it's beauty.
// Highlights
Since Capri is one big rock, all the seaside views are pretty spectacular. Grey, greens and all different shades of blue. With little white dots in them.
Marina Grande
When you arrive at Capri, you arrive at the Marina Grande. The ferry doks there and all the little boats people use to get around the island are there. Super cute. From there you can choose to take a little train up the hill to Capri. Or you can walk up to Capri through little narrow roads uphill. We did this a few times, it takes about 20 minutes and it's quite the work-out. We stayed in Marina Grande via AirB&B wich was perfect. I love being surrounded by lemontrees and the scent of jasmin.
Capri & Anacapri
Up the hill from Marina Grande is the little town Capri and at the other side of the island is the other town, Anacapri. Wonderfull to walk around and soak up it's buzzing atmosphere and window shop at all the designer boutiques.  
Boat ride & blue cave
Definitely take a boat ride around the island. It takes about two hours and you get to soak up all the beauty from the water. You visit a few caves and also the one that Capri is famous for: the Blue Cave. You'll get into little rowboats, you enter the cave through a tiny opening. It's so small that you have to lie down to get in. Once inside the cave opens up. The water seems to be this incredible, deep, bright blue colour because of the light from outside. So beautiful! It takes a bit of a wait to get in because it's super populair, but definitely worth the wait.
360 degrees view
From Anacapri you can take a one-persons-stool-lift up to the highest top of the island. It took a few minute stop relax into the ride for me but the view was, again, so gorgeous that it was worth the nerves. At the top you have a 360 degrees view of the island with is a must-see.
Beachclub
Capri has quite some beach clubs. One that we loved was Bagni Tiberio Beach Club. You get there from Marina Grande with a boat. This is a treat for me in itself! You can rent a daybed and a parasol and just chill and swim. The water is crystal-clear and so refreshing to swim in. Capri has no sand-beaches, it's all little stones. So if you have those fancy plastic watershoes, I'd definitely bring them. The beaches themselves are tiny as well. I like it: nice and cozy and without loads of people.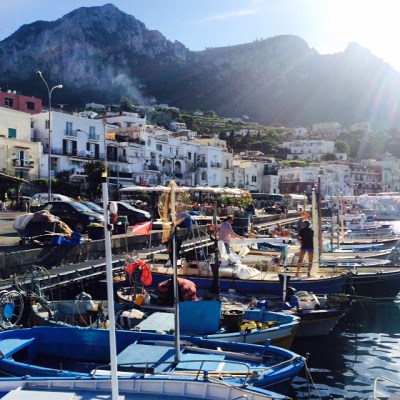 // Where to eat
Although you easily think of pasta when thinking of Italian food, there is so much more. This island is all about fresh fish, delicious tomato and rocket salads and grilled veggies.
Da Paolino Lemon trees restaurant
This is a hidden gem. You have to know about this one because you wouldn't just stroll past it. I loved this place so much we eat here twice. The ceiling is all lamenter with loads of massive lemon hanging from it. Sooo nice to sit under for a romantic meal. There is a fabulous fish starter buffet with a big variety of fish and octopus, prepared in so many different ways. Loved it. And there is a desert room. A desert room! OMG. Big plates with fresh raspberries, pineapple, strawberries, forest strawberries, blueberries, blackberries. Af course also whipped cream, gelato and all sorts of pastry. I was in haven. Too bad all that came before was also superyummy so I didn't have much space left.
Lo Smeraldo
This restaurant is great for lunch because you sit outside and it has an amazing view over the water. They bring fresh fish for you to check out – Capri is ALL about fresh fish – and prepare it for you however you like. After our meal we decided we relax on the sunbeds and go for a splash.
Pulalli Wine Bar 
This little restaurant is at the main square of Capri but high up. You'll have a fun view of the square and all of the people walking around all dressed up and going for dinner or coffee. We had the best crostini and tiramisu here.
So, my darling, that was our little blissful Italian trip. I'm already looking forward to the next one.
Love, Susanne