BEST Chocolate Bliss Balls – just two ingredients
So keeping my body healthy and fit is important to me. Enjoying all the deliciousness that life has to offer is super important as well.
That's why I am SO happy that we have bliss balls to enjoy. They definitely help me reduce sugar intake. And the best thing is that they are AB-SO-LU-TE-LY delicious. I had to take a bite out of this one.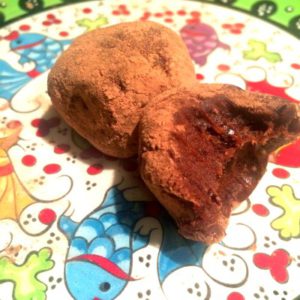 I've tried many recipes and this one is definitely my fav. It's also the easiest one with a minimum of ingredients: just two.
What you need:
\\ Fresh soft dates
About 200 grams. I like to use Iranian ones or medjool dates. Make sure you remove the stones.
If your dates aren't that soft, you can soak them in water untill they are.
\\ Raw cocoa powder
About 2 or 3 tablespoons. Raw cocoa has so much goodness in it. Using organic is best.
That's it!
What you do:
Throw dates and cocoa in a food processor and let it blits until a balls forms. Taste! This should stick together easily but won't stick to your hands when you roll balls. I like to make them truffle size. Depending on how much to munch in between, you'll have about 12 bliss balls.
Roll the balls in some more raw cocoa until they are covered. Leave them in the fridge for a bit to firm up. Enjoy!
By the way: I gave some measurements to give you an idea, but I never measure these ingredients. Just taste and adjust.
Optional:
\\ Coconut oil
I love adding a tablespoon of coconut oil to the mixture. It makes it extra soft and yummy and this is a great way to get all of its benefits into my body.
\\ Walnuts
Adding walnuts gives a winning combination. Super yum.
\\ Shredded coconut
Add some shredded coconut to the mixture and then roll the bliss balls in the coconut as well. For a bounty-like experience.
The possibilities are endless, use your creativity!
I'd love to hear how they turn out.
What is your favorite combo?
Love, Susanne